Video Demonstration
The professional roulette wheel clocker will demonstrate on video how he can well and truly beat this wheel. In normal play terms this clip should take over 1.5 million takes to capture, but we can assure you that we have less than 1500 spins on film.
Showing live and uncut roulette video on the internet is not straight forward because the wheel rotor will appear to jump occasionally. We wish to state that these are not film cuts but are caused by file compression which leads to a loss in quality. We do however keep all our original film on record to back up our statements in relation to our video clips.The quality should improve from the second viewing onwards.
Many of you will have played roulette frequently and will know that when the ball eventually hits a pin it can bounce anywhere, but far more commonly it will bounce into the first 12, or so, number pockets, and it is this area where the clocker wants to position their bet over and over again in the long term. (This can be clearly seen in all our videos)
A close look at the video will show that Pred 7 has been programmed with all the mathematical skills to achieve this ideal bet position, and demonstrates the reason why so many of these numbers are winners; they are simply in the right place at the right time. It should also be mentioned that a neighbour bet is a number and the two numbers either side of it, eg. full coverage of a five number section.


The Pred7 1.5 Million to 1 Hit.
By now it's clear that Pred 7 has a mind of its own, and with these winning roulette numbers being transmitted to the invisible earpiece, hopefully our suggestion of Pred 7 being used in the field of performance art is making more sense now too. The clocker can even link the sound to an associate and those nearby wouldn't even know!
We are very confident in our roulette computer and accessories and want you to take the process as fast or slow as you wish . You could start by purchasing our amazing DVD roulette demonstration, where the pro clocker converts twenty five betting units into several thousand during just a few sessions of play.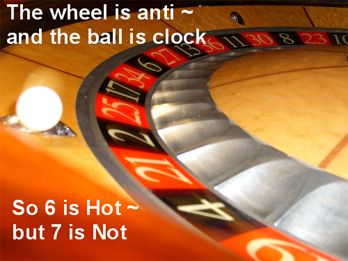 Or Visit Our Visual Roulette System at: